ASO Donors
The Adelaide Symphony Orchestra gratefully acknowledges the following donors who have contributed in the past twelve months. Thank you for your support.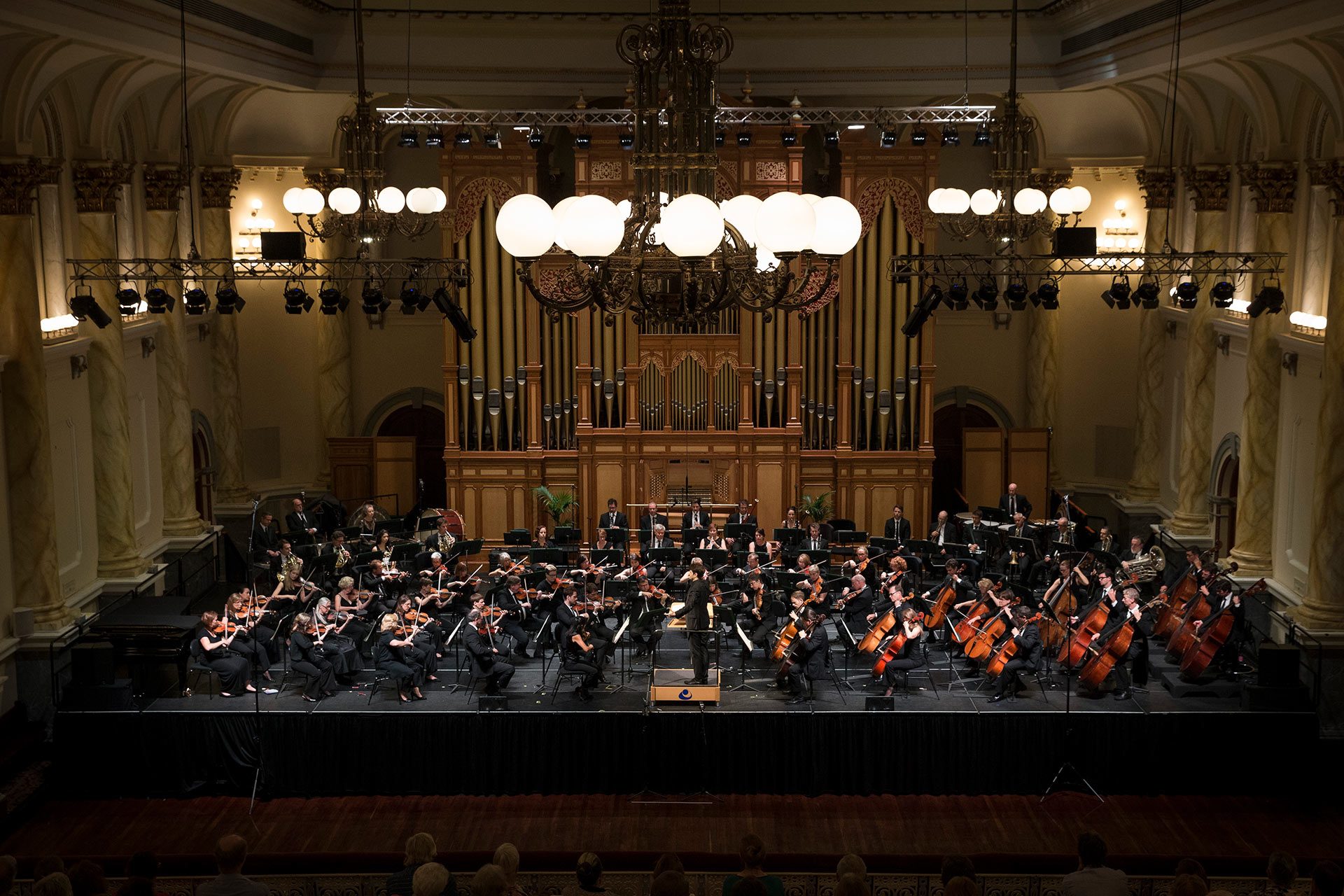 Diamond • $25,000+
Friends of the Adelaide Symphony Orchestra
FWH Foundation
The Hackett Foundation
Lang Foundation
K&S Langley Fund
Joan Lyons
Peter & Pamela McKee
Diana McLaurin
Andrew Thyne Reid Charitable Trust
Roger & Helen Salkeld
Dr Sing Ping Ting
Anonymous (1)
Platinum • $10,000–$24,999
R & M Champion De Crespigny Foundation
Graeme & Susan Bethune
In memory of Rodney Crewther
Colin Dunsford AM & Lib Dunsford
Jill Hill & Bob Warner
Robert Kenrick
Robert Pontifex AM
James & Diana Ramsay Foundation
Andrew & Gayle Robertson
Norman Schueler OAM & Carol Schueler
John Uhrig AC & Shirley Uhrig
Anonymous (1)
Gold • $5,000–$9,999
Bob Croser
Bruce & Pam Debelle
Dr Alan Down & The Hon Catherine Branson AC QC
Andrew & Barbara Fergusson
Drs Kristine Gebbie & Lester Wright
Sally Gordon & Gary Smith
Rob M Guyatt
James & Jacqueline Hahn
Daniel & Sue Hains
Margo Hill-Smith
Margaret Lehmann AM
Hugh & Fiona MacLachlan OAM
Kerrell & David Morris
Perpetual Foundation – The Henry and Patricia Dean Endowment Fund
Linda Sampson
San Remo Macaroni Company Pty Ltd
Roderick Shire & Judy Hargrave
Mary Lou Simpson OAM
Dr Tom & Sharron Stubbs
John Sulan QC & Ali Sulan
John & Suzanne Tilley
John Uhrig AC & Shirley Uhrig
Nick Warden
Pamela Yule
Anonymous (2)
Silver • $2,500 – $4,999
Liz Ampt
A. Prof Margaret Arstall
Dr Melissa Bochner
Liz Bowen
Vincent & Sandra Ciccarello
Joan & Ollie Clark AM
Dr Aileen Connon AM
Tony & Rachel Davidson
Margaret Davis
Mary Dawes BEM
Norman Etherington AM & Peggy Brock AM
Dr Ian Klepper
Helen Kowalick
Johanna & Terry McGuirk
In memory of Father Kevin McLennan & Barbra McLennan
David Minns
Grahan Norton
K & K Palmer
Christine Perriam
John & Jenny Pike
Ann Piper
Dr Leon Pitchon
Diané Ranck
Richard Wagner Society of South Australia
Garry Roberts & Dr Lynn Charlesworth
Dr J B Robinson
Petrea & Mick Roche
Trevor & Elizabeth Rowan
Nigel Stevenson & Glenn Ball
Dr Nora Straznicky
David & Linnett Turner
Dr Melanie Turner
John Turnidge AO & Patricia Rayner
Ann Vanstone
Merry Wickes
Dr Richard Willing OAM
Janet Worth
Hon David Wotton AM & Jill Wotton
Anonymous (2)
Maestro • $1000 – $2,499
The Aldridge Family Endowment
Rick Allert AO
Julie Almond
Anton Andreacchio
Neil Arnold
Australian Decorative & Fine Arts Society Adelaide
Dr Peter & Elaine Bailey
John Barker & Rebecca Read
Judy Bayly
Prof Andrew & Prof Elizabeth Bersten
Betty Ward Foundation
Ruth Bloch
Dianne & Felix Bochner
Boileau Family Trust
Prof J & B Bradley
Elizabeth Bull
Rob & Denise Buttrose
Richard & Kathy Carter
In memory of Darrell Clarke
In memory of Emeritus Professor Brian Coghlan
Diane & Alan Colton
Josephine Cooper
Ana Costa
Ruth Creedy
Rosemary Czernezkyj
John Daenke & Janet Hawkes
Drs. R & D. Davey
Jan Davis AM & Peter Davis
Legh & Helen Davis
Deborah Down
Jane Doyle
John Gazley
Margaret Goode
Lois & Jane Greenslade
Peter R Griffiths
In memory of Geoffrey Hackett-Jones
Christopher & Sherri Handley
Mary Handley OAM
Eleanor Handreck
Michael & Janina Hewinson
Deane & Jennifer Jarvis
Dr Iwan Jensen
Anita & Andrew Just
Elizabeth Keam AM

David Khafagi & Janet Anderson
Dr Thomas Kimber & Katrina Bochner
Caryl Lambourn
Pat Lescius & Michael McClaren
John H Love
Dr Malcolm Mackinnon & Dr Alison Mackinnon AM
Ian Maidment
Frank Markus
Lee Mason
John McConnell
Jacqueline McEvoy
Skye McGregor
Dr Neil & Fay McIntosh
Diane Myers
Tom F Pearce
Graham Prime & Nathalie Wooldridge
Josephine M Prosser
David & Janet Rice
Drs I C & K F Roberts-Thomson
Trevor & Tanya Rogers
David & Anne Rohrsheim
Richard Ryan AO & Trish Ryan
Meredyth Sarah AM & Don Sarah AM
Warren & Margaret Scharer
Frances Scobie
Jasen Scott
Larry & Maria Scott
Gwennyth Shaughnessy
Beth & John Shepherd
Dorothy Short
Roger & Lessa Siegele
Julie Spry
Nigel Steele Scott
Ruth Stratton
Anne Sutcliffe
Guila Tiver
Anne Tonkin
Lynn & Christine Trenorden
James W Vale
Jacob & Rosalie Van Dissel
Dr Francis Vaughan
Helen Walker
Dawn Yeatman
Anonymous (13)
Soloist • $500 – $999
Dr Martin Andrew
David & Elaine Annear
Dr Lynne Badger
Barbara Bahlin
Pamela Baker
Peggy Barker and Tom Pearce
R & SE Bartz
The Baska Family
Tom Bastians & Lucy Eckermann
Andrew & Margaret Black
Antony Blake
The Hon D J & E M Bleby
Jean Boomer
Martin & Muriel Borg
Richard Burchnall
Miriam Cocking
Stephen Courtenay
David & Pauline Crewther, in memory of their brother Rodney James Crewther
Michael Critchley
Dr J K Denton
Judy Ferguson
Pamela Fiala, in memory of Jiri
P W & E L Ford
Otto Fuchs
Anthony & Margaret Gerard
Joan & Len Gibbins
Ian Goldring
Dieter & Eva Groening
Neville Hannaford
Robert Hecker
David Howard
Don Howell
Max & Maureen Howland
Alex & Natalia Hubczenko
Italian Choral & Arts Society
Margaret James
Dr Meril Jones
Rosemary Keane
Angus Kennedy
Bron & Avi Kleinburd
Peter & Ursula Langridge
Goffrey G Larwood OAM & Carmel Kain
Richard & Robyn Leeson
Mark Lloyd & Libby Raupach
Susan Lonie
Melvyn Madigan
Irene Marais
Ruth Marshall & Tim Muecke
Sarah Martin
Barbara May
Janet & Ian McLachlan
G & B Medlin
Fiona Morgan
Alyson Morrison
Dr Craig Mudge AO & Maureen Mudge
Felicity Ng
Rosemary & Lew Owens
Douglas Pearce
Martin Penhale
Josie Penna
Malcolm & Margaret Phillipps
Donald G Pitt
Bryan Ridge
Jeff Ryan
Stephen Salamon
Barbara Sedgley
Henry & Dorothy Short
Ian Smailes & Col Eardley
Jim & Anne Spiker
W & H Stacy
Christopher Stone
Verna Symons
Bronwyn Simondson & Jill Thomas
Dr Barrie & Jillian Thompson
Stuart & Stephanie Thomson
Junia Vaz de Melo
Dr Christopher Verco
John Vickery OAM
G C & R Weir
Patrick Wells
J Whitehead
Robert Willis
Timothy Wood
Ann Woodroffe
Anonymous (27)
Tutti • $250 – $499
Ken & Mary Adams
Robert Alcock
Meg Alexander
John Bailes
David & Valerie Baker
Julie and Andrew Barnes
Dr Robert & Elizabeth Bauze
Jonathan & Eva Billington
Martin Biner & Stephanie Sexton
Alan Branford & Hoai Nam Duong
B M Brummitt
Mr and Mrs Trevor and Sondra Bywater
Helen Calnan
John Caporn
Dr Frida Cheok
Prof Les & Jenny Cleland
Robert & Kate Coco
Kevin Craddock
Graham & Frances Crooks
George & Ilana Culshaw
Helen Culshaw
Anna Day
Duncan Hugh Dean & Judith Peta Fradd
Diana Dibden
Rodney & Bronwen Dohnt
Denise Duff
Margaret Duncan
A & W Edwards
Carla & William Ellenbroek
Stephen & Emma Evans
Conxita Ferrer
James H Ford
John Gell
Donald J & Rhonda A Gilmour
Joan Hall
Paula Hardy
Charles Hill-Brown
Phillip & Phyllis Hurr
Dr Wilfrid Jaksic
Rachel James
Michael A Jeffries
Graham & Robyn Jenkin
Tim & Carrie Johnson
Prof W Jones AO & Dr E Hobbin
Joy M Kelly
Petra Kelly
Martin Kennison
Dr Alison Kent
H B & S J Kildea
Yvonne King
M & K Klopp
Hon Anne Levy AO
Milton Lewis
Keith & Christine Lloyd
Simon Lord
Colin Macdonald
Dr C & Dr A Magarey
Robert Marrone
Christopher & Rosemary Mather
Sandra Menpes
Philip Minge
Cassandra Moore
Dr Kenneth O'Brien
Dr Maree O'Keefe
Christine O'Nyons
Dr John Parker
Captain Steve Pearson CSC & Jan Pearson
Prof Anthony Phillips AM & Susan Phillips
Rosemary Phillips
Krystyna Pindral
Russell & Maureen Pope
Margot Radford
Alan & Barbara Raine
Michael & William Riceman
Michael Robinson
Hiroshi Sampei
In memory of Frank Sanders
Janet M Scott
Alice Shore
John & Christine Stanley
David Stevenson
Christopher Sumner
Kate Swaffer
David & Helen Tassell
Geoffrey Taylor
Dr M Tingay & A Robinson
Myffie Trudinger
Jenny & Mark Tummel
Dr Allan Wallace & Angela Rabanus
Kay Walsh
Prof Lesley Warner
Rose Warren
Linda Warren
Paul & Lorraine White
Stephen White
John & Deirdre Whitrow
Nicholas Williams
Matthew Winefield & Brian Lew
Hans Woznitza
Anonymous (39)

The ASO also thanks the 2078 donors who gave other amounts in the past twelve months.

Correct as at 26/05/2022