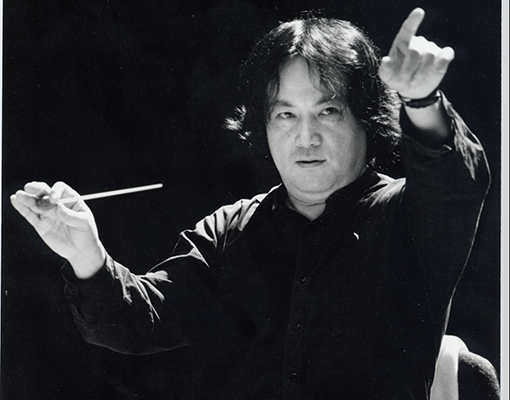 Muhai Tang is dedicated to creating new avenues for classical music and as such has most recently concentrated his attentions to building the audience and artistic reputation of new or lesser known orchestras. He is Chief Conductor of the Belgrade Philharmonic, Chief Conductor and Artistic Director of the Tianjin Opera and Orchestra and Artistic Director of the Shanghai Philharmonic and Zhenjiang Symphony Orchestras in China.  Working with these orchestras he feels he is helping to build and stabilize their artistic output, which is particularly important to him in China where he is keen to help the continued growth of Chinese music. From September 2009 he has also held the role of Principal Guest Conductor of the Hamburg Symphony Orchestra.
Son of a famous film director in China, Muhai Tang has always been drawn to the musical stage, and has conducted opera on several continents, most recently with a highly acclaimed new production of Rossini's opera Le Comte Ory in Zurich.  He previously held the position of Chief Conductor of the Finnish National Opera in Helsinki where he conducted highly successful new productions of Die Frau Ohne Schatten, Turandot, Der Rosenkavalier and Pique Dame, and also Madame Butterfly, Tosca, La Rondine, Boris Godunov, The Marriage of Figaro, La Traviata, The Barber of Seville and Othello.  His ballet performances with the company included an acclaimed Sacre du Printemps and a new production of Swan Lake.  In 2007 he conducted fully-staged performances of Tan Dun's opera "Tea" with the Royal Stockholm Philharmonic.
Muhai Tang has worked with a list of orchestras that includes the NDR Hamburg, Oslo Philharmonic, St. Petersburg Philharmonic, Malaysian Philharmonic, Dresden Philharmonic and the NHK Symphony Orchestra, Royal Flemish Philharmonic, Orchestre National de Lille, the Verdi Orchestra in Milan, Tenerife Symphony, Stuttgart Philharmonic, Bilbao Symphony and the Hong Kong Philharmonic Orchestra.
Highlights of 2014/2015 season include orchestral appearances with the Prague Symphony, Belgrade Philharmonic (including a US tour), Stuttgart Philharmonic, Philharmonie Luxembourg, Arpeggione Chamber Orchestra as well as conducting the Tianjin Symphony through a highly anticipated European tour.
Muhai Tang's international recognition began when Herbert von Karajan invited him to conduct the Berlin Philharmonic Orchestra in its 1983 subscription series. This success led to repeat appearances with the Berlin Philharmonic and invitations from many of the world's leading orchestras such as the London Philharmonic, Leipzig Gewandhaus, Staatskapelle Dresden, Bayerischer Rundfunk Symphony, Orchestre de Paris, Orchestre National de France, Sydney Symphony and the San Francisco Symphony Orchestras amongst many others.  Since then he has appeared as guest conductor on four continents and at music festivals in Prague, Berlin, Edinburgh, Verona, Bergen and Beijing. He is a favourite with audiences and musicians alike, with an engaging stage presence and graceful and natural technique. He has worked with numerous great artists such as Mstislav Rostropovich, Yehudi Menuhin, Itzhak Perlman, Cecilia Bartoli, Jean-Pierre Rampal, Martha Argerich and Anne-Sophie Mutter to name just a few.
He has an extraordinarily wide repertoire, ranging from Baroque to composers of today.  He recently concluded his tenure as Artistic Director and Chief Conductor of the Zurich Chamber Orchestra and continues with them as Principal Guest Conductor.  This has given him an opportunity to explore the chamber orchestra repertoire which has always been close to his heart.  In particular Muhai Tang has received great acclaim for his performances of Joseph Haydn.
Previously he has also held Principal Conductor positions with the Royal Philharmonic Orchestra of Flanders, China National Symphony Orchestra, Queensland Orchestra in Australia and the Gulbenkian Orchestra in Lisbon. He was Principal Conductor of the Gulbenkian Orchestra for 12 years, from 1987 to 2000, enhancing the orchestra's reputation with international tours and recordings.  In Queensland he was noted for his impressive cycles of the works of Mahler and Bruckner.He maintains close links with China, returning regularly to conduct in Beijing and Shanghai.
Muhai Tang also enjoys working with younger musicians in a mentoring role and has conducted the Shanghai Conservatory Orchestra, where he studied himself and in Berlin as part of the Young Euro Classic Festival in which 17 youth orchestras performed in 17 days. In August 2007 he brought students from the Shanghai Conservatory to collaborate with the German Youth Orchestra, a project culminating in two performances at the Berlin Konzerthaus and then a tour through six major cities of China; this led to a chamber orchestra tour in 2009 and the collaboration continues to this day. Muhai Tang became Conducting Professor and Head of the Conducting Department at the Conservatory in 2007. He has also worked for Shanghai Concert Hall as Artistic Director and also holds the title of Conductor Laureate of the National Symphony Orchestra of China.
Among Muhai Tang's many recordings, the Guitar Concertos by Tan Dun and Christopher Rouse with Sharon Isbin and the Gulbenkian Orchestra, for Teldec, was awarded a Grammy in 2002.