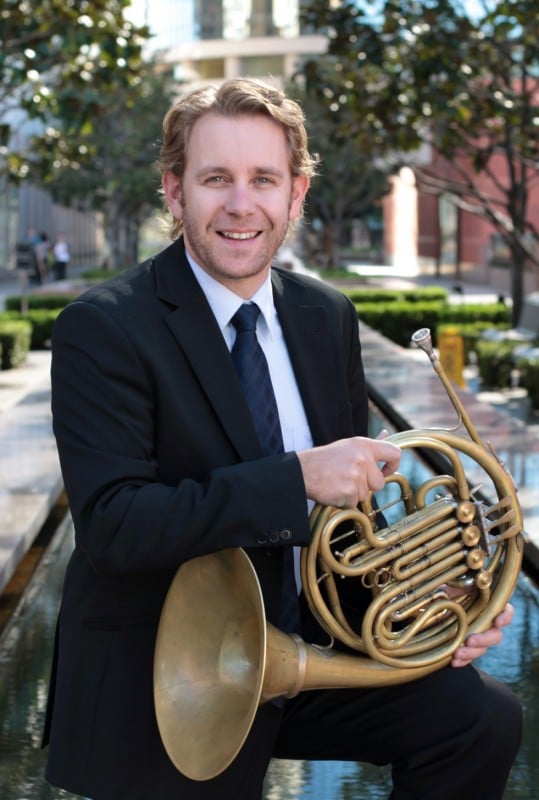 Born and raised in Adelaide, Andrew Bain was appointed to the Chair of Principal Horn of the Los Angeles Philharmonic by Gustavo Dudamel in May 2011.
Prior to moving to LA, Andrew held positions of Principal Horn of the Melbourne Symphony, Queensland Symphony, Münchner Symphoniker and the Australian Opera & Ballet Orchestra, and Associate Principal Horn of the Adelaide Symphony Orchestra. From 2003-2012 he was the Principal Horn of the Colorado Music Festival.
Andrew has been fortunate to have had the opportunity to perform as guest principal with many of the worlds great orchestras including the Berlin Philharmonic, Chicago Symphony, Saito Kinen Orchestra, Dallas Symphony, Mahler Chamber Orchestra, Baltimore Symphony, Sydney Symphony, Taiwan Connection and Malaysian Philharmonic.
A regarded solo artist, Andrew has performed regularly as a soloist with the LA Phil at Walt Disney Concert Hall and the Hollywood Bowl since joining the orchestra. Andrew has also appeared at the front of the stage with the Melbourne and Queensland Symphony Orchestras, Alabama Symphony, Colorado Music Festival, Aspen Music Festival, Colburn Orchestra and with the Berliner Symphoniker at the Philharmonie in Berlin. In 2015 Andrew presented the world premiere of Brad Warnaar's Horn Concerto with the Hollywood Chamber Orchestra. In 2021, Andrew premiered Kris Bower's Horn Concerto with the Los Angeles Philharmonic. And is so excited to premiere Paul Dean's Horn Concerto with the ASO in 2022.
As a chamber musician, Andrew loves to explore the possibilities of the horn in various ensembles and gave the first performance of Geoffrey Gordon's Winterleben for Mezzo Soprano, Horn and Piano at the 2015 International Horn Symposium. Andrew is a regular performer on the LA Phil's Chamber Music series and is a founding member of the Los Angeles Philharmonic Wind Quintet who performed at Ukaria and the Sydney Opera House in 2019 as part of their Australian tour.
Andrew is passionate about education and is very lucky to work with some of the finest young horn players as the Horn Professor at the Colburn School Conservatory, at the Aspen Music Festival, Australian National Academy of Music and in masterclasses throughout the US, Europe and Australasia.
In 2020, Andrew and his wife Rupal founded Invested Musician, an organization dedicated to helping musicians take their careers to the next level. As well as free online classes, and workshops, Invested Musician offers extensive educational programs supporting the Music and Business sides of the industry. www.investedmusician.com
As well as performing on stage, Andrew can be heard on numerous Hollywood film scores. Performing John William's incredible soundtracks of Star Wars: Episodes VII, VIII, and IX are life highlights and a dream come true for Andrew.
Outside of performing and teaching, Andrew loves spending time with Rupal and their two young boys Jasper and Sebastian and improving his golf game.