FAQs
Do you have questions about attending our Learning Program concerts and events? If you can't find the answers you're looking for below, please contact us at aso@aso.com.au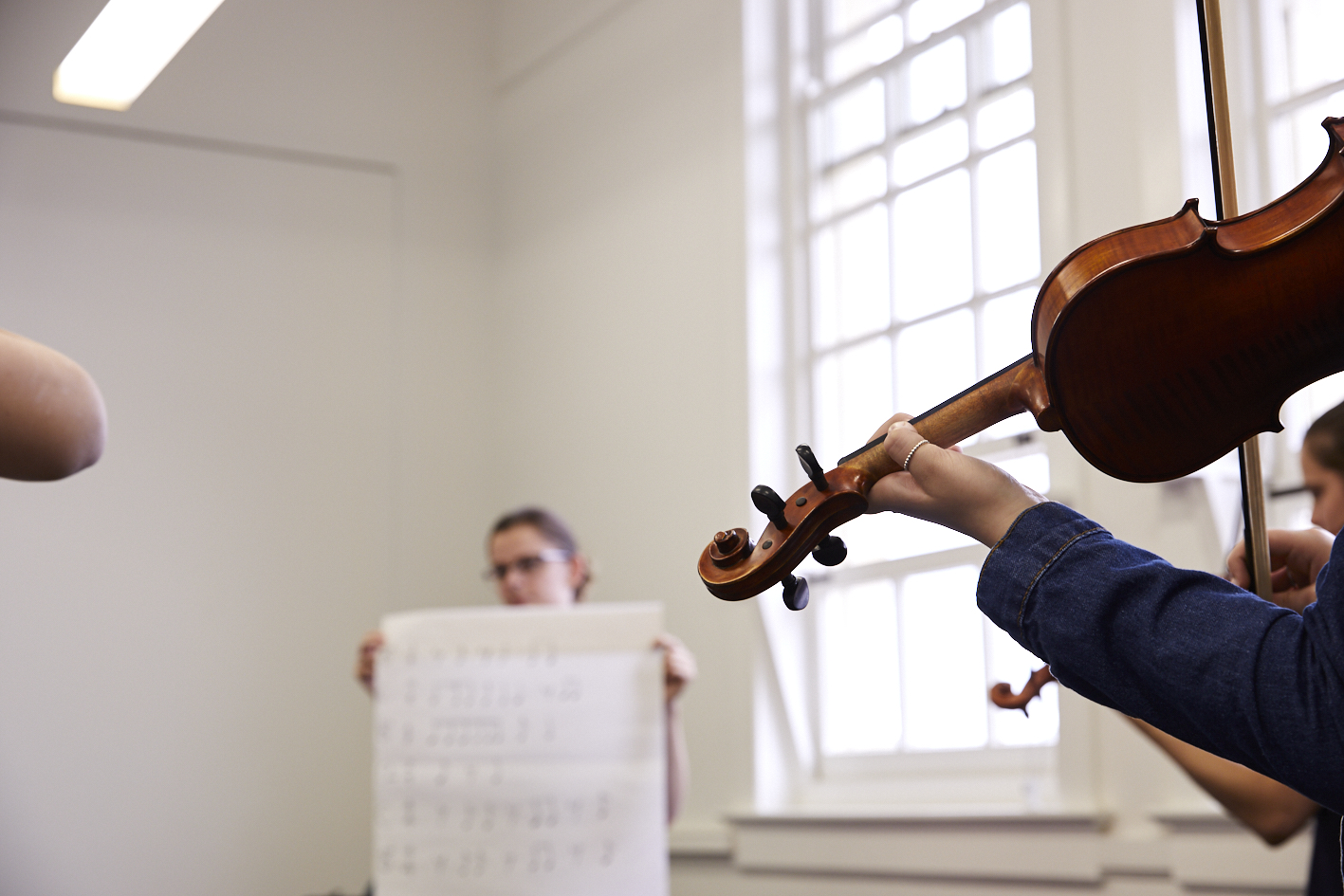 ASO Vaccination Policy – Learning Events
Patrons aged 16 and over will need to show proof of full COVID-19 vaccination or a valid medical exemption to gain entry for the following events
Festival of Learning, including Finders Keepers, Stan and Mabel and the Race for Space, Re:discovered
Rehearsals Unwrapped
School Incursions, including The Tale of the Fire Phoenix and Little Maestros
Patrons aged 12 and over will need to show proof of full COVID-19 vaccination or a valid medical exemption to gain entry for the following events:
Matinee Series concerts
Finders Keepers (family concert on Fri 10 June)
Big Rehearsals
Patrons who are required to show proof of vaccination will need to show their COVID-19 digital certificate on their smart device (as part of the QR Code check in process) OR provide photo identification with a printed immunisation certificate.
Those with an official medical exemption will need to show their certificate of exemption.
All students from year 7 and up are required to wear masks at ASO events, and primary school students will be encouraged to wear them.
If you have any questions about the Vaccination Policy for ASO Learning Events, please contact us at learning@aso.com.au
How do I book?
All bookings are made online at aso.com.au/learning. Please avoid booking by phone where possible, as we require the additional information captured during online booking.
All school bookings are payable by invoice (for payments by EFT, cheque, credit card) to be paid in full prior to performance.
Please note attendance at related Professional Development sessions may be compulsory for some programs. These sessions will be automatically added to your online booking if applicable. Teaching resources may be included with the cost of the PD – please check each event for more information.
For assistance with bookings, please contact the ASO Box Office on aso@aso.com.au or 08 8233 6233 during business hours.
What is the invoicing process?
ASO will invoice as per the numbers of students booked no later than 6 weeks prior to performance. This invoice will also include any charge for related PD teacher sessions held earlier in the year and any applicable resources provided.
How many teachers can we bring?
We understand that each school may have different supervisory needs for attending students, and so will happily provide complimentary tickets for every teacher/adult required to assist with students at an ASO performance.
Bookings online will apply complimentary teacher tickets within the ratio shown below, but if your school has different needs, please discuss with us, quoting your order number so we can alter tickets as required.
R-2 = 1 teacher to every 6 children.
3-7 = 1 teacher to every 10 children.
8-12 = 1 teacher to every 15 children.
Are home schools eligible to attend Learning events?
Yes, bookings for home schools are priced and handled in exactly the same manner as other schools.
Can we bring parents/caregivers to ASO performances?
For incursions based at your school or site, your own policy on parent/caregivers attendance at events should be applied. For any parents/caregivers bringing non-school age children (eg siblings), payment must be made as per the school-aged attending children.
For excursions where your school attends an ASO venue, parents/caregivers can only attend if they are acting in an official supervisory capacity authorised by your school Principal/Director. This includes parents/caregivers holding all relevant child safety and volunteer clearances as required by your school and the State Government. This is important to maintain a child-safe environment for all attendees.
Therefore request for additional parents/caregivers/grandparents or other members of your school community to attend performances will be declined for all school attendances at ASO venues.
What if I/we commit and then need to change or cancel our booking?
We understand that changes to enrolments and school schedules happen, and we are happy to work with schools to accommodate changes where possible.
Therefore, changes will be permitted from the time of booking, up to six weeks before the performance. After this point, no reductions or refunds will be available.
Booking forms have asked about photography clearances. Is this necessary?
Documenting the ASO Learning program with still and video photography is important to help us tell the story of the importance of music education to our funding bodies (including government, corporate and private donors) and to potential audiences (other schools). For this reason, we may have professional photographers or videographers at one or more sessions.
Therefore, we will ask for your photography permission at the time of booking as a precaution (you have the option to say no) but will always double-check with the attending teacher on the day in the event we will be filming. We can assist you to manage individual exceptions to clearances as required.
Can we take our own photos/videos?
Schools are welcome to take their own photos and videos at ASO performances, with the following requirements/guidelines.
You can only photo/film your school's students. Please take care to avoid capturing other students at all times.
No flash photography at any time in the performance space.
Strictly no videography of any part of the performance itself (you can film other pre or post-performance interactions).
Access
All venues used for Learning programs are wheelchair/special access accessible. If you are concerned about accessibility, please include any relevant information when booking.
Can I bring my school to other concerts outside of the Learning Program?
Yes, school groups of six or more students are welcome at all ASO performances at reduced prices (generally the same as advertised subscriber child prices). Please contact the ASO Box Office aso@aso.com.au or 08 8233 6226 during business hours for more information. Please note that we may be unable to offer complimentary teacher ticketing for some events – please confirm at time of enquiry.