5 Minutes with pianist Andrea Lam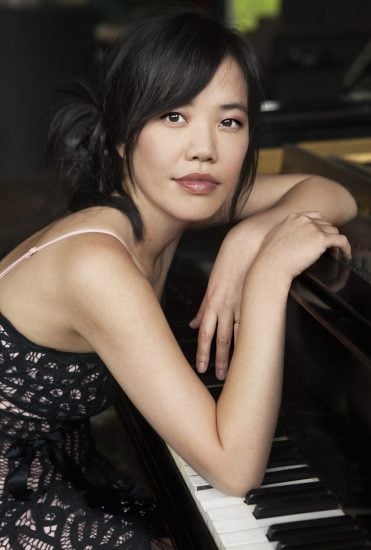 Ahead of her performance of Clara Schumann's Piano Concerto, get to know a bit more about Andrea Lam, and what she loves most about this unique work.
Clara Schumann, née Wieck, was born in Leipzig in 1819 and shot to fame as a child prodigy, performing in Paris, Vienna and across Europe in her teens. She grew up to be one of the most important pianists of her era and a composer with a distinctive personal voice. At 14, she gave the premiere of her own Piano Concerto, with Mendelssohn conducting. How do you feel about performing her Piano Concerto?
I am thrilled to be performing Clara Schumann's Piano Concerto with the ASO and Eivind Aadland, for many reasons. The concerto itself has everything – it is dynamic, beautiful, poetic, virtuosic and more people need to hear it! Also, I am a huge admirer of Clara Schumann as a person. If today, in 2022, you said, there's this mind-blowing pianist/composer superstar who has been famous since she was a child prodigy and sells out halls around the world, has given birth to eight children, and is the main breadwinner in the family – would you believe it? This is Clara Schumann, née Wieck, but almost 200 years ago in a very different gender climate. As a professional musician and mother, it is fascinating to see glimpses of how she inhabited all of these roles, with such humanity and strength.
Describe the concerto and how you will approach playing it:
The concerto has three very distinct movements. In the first movement, the declamatory opening immediately grabs the audience and from there, the music moves through lush melodies to virtuosic playfulness. It eventually melts into the second movement, titled "romance", which becomes a duet between the piano and solo cello. It is a beautiful, intimate moment, which is unusual in the middle of the grandeur and largeness of the concerto setting. The third movement gets the dance back with a polonaise flair and is the longest movement of the piece.
What do you love about the work?
I love the sincerity of this work. Each world it inhabits – dance, lyricism, virtuosity, playfulness, intimate wandering melodies – is done with such skill and wholeheartedness. She finished this concerto aged 15. In addition to being an extraordinary feat, I think there is something special about that age where you feel everything so keenly and deeply and earnestly (before the ravages of time eat you up and add layers of irony, bitterness, regret, melancholy, and wisdom…!), which come through so beautifully in this piece.
You, like Clara, were a child prodigy having made your orchestral debut with the Sydney Symphony at the age of 13. What sparked your love of the piano? And was being a classical pianist always in sights as a professional career?
I love the scope of the piano. I also love the problem-solving element to interpreting music. The score is a map and a puzzle – when learning the notes of a piece, you have to decode the patterns, figure out the harmonic and structural topography, figure out which lines or notes you want to highlight. And then, once you've learned the text, you have to figure out what it all means – what the music is expressing, what emotions, what story, what struggle. It is a fascinating process and there are so many ways to do it. I always loved playing piano and it was a big part of my childhood, but I only realised as a teenager that a career in music might be possible.
Do you come from a musical family?
Not particularly. However, my grandfather absolutely loved classical music (my mum was named after Eunice Gardiner) and ABC Classic FM was the soundtrack to my childhood. Incidentally, since moving back to Australia, ABC Classic FM is part of my current life soundtrack! I started the piano because my mum played. But none of us really knew what a life in music looked like until it became a significant part of my life.
As a child prodigy how did this effect your childhood? What were the benefits and the challenges you encountered from your success at such a young age?
It's hard to say. I loved my childhood, but did not think it was that unusual until I became an adult and then had my own child. The benefits are that it is really lovely to get recognition for something that you love and have spent a lot of time and care and energy on, at any age! The main challenge is that it is a fairly isolated life that needs a lot of time, and sometimes that meant I had to miss out on school camps and some sports. However, that's just how it goes! I am grateful that this career is one that you can potentially have for a long time, and that it can get better, and you can bring more to it over time, too.
Describe how you feel when you are playing:
That varies a lot! In the best times, it feels like flying. There have been a handful of times where there is this overwhelming feeling of connectedness – the brain is working, the fingers are moving, the emotions are there, but that's far in the background. It is one of those feelings that goes beyond any other form of communication for me – just a resonance of something deep within, bringing a piece someone far more brilliant than me wrote, to life, and somehow feeling that reach another person in the audience. It is hard to describe, but incredibly powerful. There are other times where I have felt completely swept up in the rhetoric of the music – whether it is sheer excitement, poignant melancholy, exhilarating virtuosity, pure poetry. These are the moments we performing musicians live for!
Where is home?
That one's tricky. I grew up in Sydney, so that was my first home. Then, I lived in the US for 20 years, which also felt like home. When I am traveling a lot for performances, I often call wherever I'm staying "home". However, since moving back to Sydney last year, being in Australia now really feels like I have come home, deep down. It is a pretty great feeling.
Finish this sentence: Music is…
Music is sound. Music is solace. Music is beauty. Music is melancholy. Music is hope. Music is pain. Music is poetry. Music is storytelling. Music is transportive. Music is everywhere. Music is essential.
Don't miss Symphony Series 1 – Jubilation, Fri 8 & Sat 9 April at Adelaide Town Hall