Music Education Throughout a Lifetime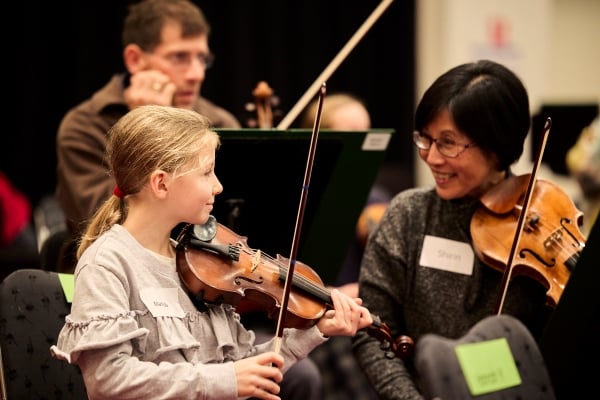 Principal 1st Violinist Shirin Lim is a passionate advocate for the ASO's education programs. We spoke
to her about her experiences and the importance of music education.

Shirin: Education concerts are often the first time children have seen a live performance of any kind – the first time they've heard classical music or seen an orchestra. So for me, the difference playing to kids is that they are open and receptive. They have no expectations, so it's all exciting and new. You also get that immediate reaction from them – the wows and gasps.
Each year we get to work with our Creative Partner Paul Rissmann during the ASO's Festival of Learning. Paul is an incredibly talented and intuitive artist. He has a way of getting people to be very involved – the kids are so willing to sing out and take part.
Formal education is often about knowledge, passing tests and getting into university. The thing about music and the arts is it doesn't teach those things – it teaches you to think outside the square. You need imagination and creativity. To do well in the sciences and math, and even to solve the world's problems, you need to have imagination, so it is important that it's developed.
I've been interested in music since I was a young child. When I was about six I started learning piano but I fell off the back of the piano stool and then I gave up; I decided it wasn't a good instrument for me. Then my younger brother started learning violin and I liked that, so I wanted to learn too.
Growing up I came to all the ASO concerts. My parents subscribed and we used to come every couple of weeks to watch the performances. My first teacher, Harold Fairhurst, was a violinist in the Orchestra (then called the South Australian Symphony Orchestra) and my violin previously belonged to him. Actually a lot of my colleagues in the Orchestra I've known since I was a child because we were students together and we played in the same junior orchestras. Music is a really great connector and has enabled me to build a life of learning and sharing.
Please support ASO's Music Education Programs with a donation today.
WITH THANKS TO OUR EDUCATION PROGRAM SUPPORTERS AND PARTNERS