5 Minutes with Amy Lehpamer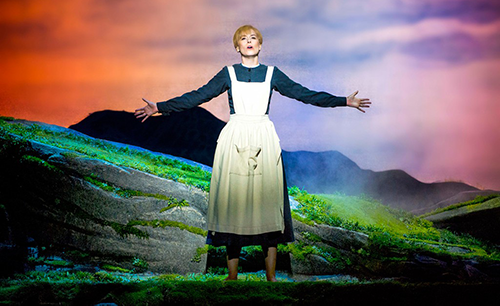 Helpmann Academy Award Winner Amy Lehpamer most certainly knows how to belt out a Broadway hit. From playing Maria in the Sound of Music, and music icons Dusty Springfield in Dusty: The Musical to Cynthia Weil in Beautiful: The Carole King Musical, and the school principal in School of Rock.

Here she talks to ASO about how she fell in love with musicals and a few lessons she's learned along the way.

Amy stars in Festival of Orchestra's Night on Broadway Wednesday 1 December, Adelaide Showground.
You're set to perform with the Adelaide Symphony Orchestra in its Festival of Orchestra concert A Night on Broadway – what are you most looking forward to about this?
Singing with a symphony orchestra is the most thrilling experience. The arrangements are fuller and more detailed, and the sheer amount of wonderful musicians on stage is far more than what you might get in a traditional Broadway show. I can't wait to work with the ASO to bring these wonderful songs to life. And under the stars? That's a bit romantic, isn't it.

Which song are you especially excited to sing at the concert?
I'm lucky enough to be singing songs from not only the recent past, but absolute classics. "Don't Rain On My Parade" is an absolute favourite of mine. It's so dynamic, powerful and uplifting. We'll all feel like we can take on the world after that one!
What role made you fall in love with musicals?
I was already in love with movie musicals, but within my first few months of high school, I "got in" to the school production of Joseph and the Amazing Technicolour Dreamcoat. And so my love of musicals began. I was cast as one of Joseph's "Brothers" (it was an all-girl school!) though I got a call-back for The Narrator and was so in awe of the idea of playing that role and had never sung anything like it before. To that point I had been playing a lot of violin and only really sang in my bedroom and in choirs. The role went to a Year 11 girl, Vicky Booth, who was gorgeous and sang like an angel and was such an example of composure and talent in a big role like that. And I was so happy to be a brother (I was "Asher" – I had one solo line and it was THE biggest thrill to sing it). "Joseph" is a fantastically fun show – it plays with different musical genres, and is a pure exercise in storytelling through song and dance and comedy. The cast was mostly made up of the more senior girls at my school, and they were so wonderfully encouraging and talented. Their kindness and camaraderie was definitely one of the reasons I fell in love with performing in musicals. A few years later I understudied and played the narrator for a Geelong amateur company. I still remember all the words!
What was the role that fast tracked your career?
Christine Colgate in Dirty Rotten Scoundrels, a role I played twice. It gave me a different boost each time. The first time I was originally cast as a supporting character but the lead actress was offered a West End role at the same time and dropped out, and so director Roger Hodgman decided to bump me up! Being a Production Company show it was a whirlwind rehearsal and performance experience, but it was the most incredible, steep and rewarding learning curve and taught me so much.
When I auditioned for the role again 4 years later, I had had a few years of experience behind me and was so determined to prove myself and make a mark with it. Thankfully I won over the producers and I got my chance. It was my first leading role in a show in Sydney, and it was a really strong introduction to a lot the industry who hadn't seen me in anything to that point. The show was a real favourite with audiences and it means a lot to be associated with it.
What was your most rewarding role?
Playing Maria in The Sound of Music was my dream come true. I had always hoped the opportunity to audition would come around, and when I heard the show was coming, I set my sights on making sure I was in with a chance. To that point, I'd established myself as mostly a Musical Theatre "belter" so I did a lot of work to round out my voice to a more Rodgers and Hammerstein friendly sound. But the character of Maria always made so much sense to me – she's playful, funny, optimistic, energetic and headstrong. And playing her was completely joyous. Connecting with those amazing children every show was incredibly rewarding, we were on a little journey together every night and had so much trust in each other. And my heart was just so happy going to work every day to sing that sublime score. It meant so much to me, and I still pinch myself that I had that opportunity to tour the country and BE Maria. Honestly, I get teary just thinking about it.
Role that taught you an important life lesson
Reza in Once. I grew up playing the violin but reached a fork in the road at university where I realised I wanted to be an actor and singer more than a violinist. It felt like I had to break up with the violin, in fact, my violin teacher at the time said as much. When Once came around, I started practicing again, and in the course of rehearsals I was reintroduced to what I loved most about playing – playing with other people! It was such a rewarding show. I made lasting friendships and reconnected to the essence of why violin – and music – had been so much a part of my life. Redefining my musicianship as something to share and revel in, not compete with, made all the difference. I've been carrying that ethos with me ever since.
Role that was inspirational
Dusty Springfield in Dusty. Her dogged determination to create the sound she wanted, love who she wanted – it brought her a lot of pain but my gosh did she leave a legacy. It was intimidating playing someone with such an iconic sound, but surrounding myself in her music and her influences was incredibly rewarding and continues to inspire my music tastes and singing.
Role you'd most like to play
Bobby in Company. Nellie in South Pacific. The Narrator in Joseph. The witch in Into the Woods! Gosh, there are so many amazing roles! That said, I'd love to create a new role from an amazing Australian writer …
What makes a Broadway hit?
Oh I wish I knew for sure! Something special happens when the right story and songs are written at the right time with the right team: the choreography and the staging work together seamlessly to tell the story of the work, and the performers are inspired to contribute their best. I think a common thread is a bravery and hopefulness in the making of it – that a certain story has to be told no matter what. There can't be anything cynical or manufactured to "get bums on seats". It's the something special that makes your hairs stand on end in a great show. Great collaboration has that effect, and great musicals rely on it.
Don't miss Amy in A Night on Broadway at Adelaide Symphony Orchestra's Festival of Orchestra, Wednesday 1 December, Adelaide Showground.