5 Minutes with Soprano Johanna Allen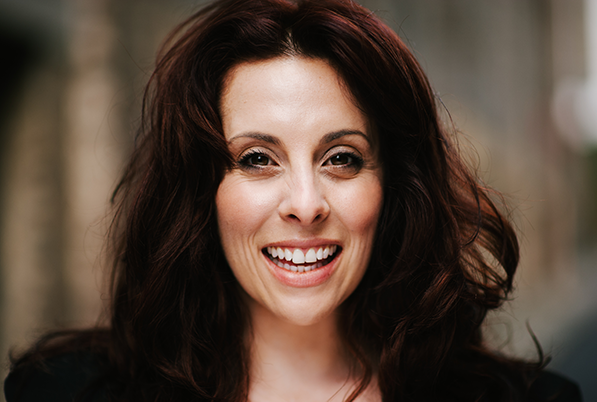 Adelaide's own Green Room Award Winner, Soprano Johanna Allen, is one of Australia's most versatile singers and actors. She takes to the stage with Mitchell Butel and The Idea of North, Australia's leading a cappella vocal quartet and ARIA Award winners. Together with the ASO they will bring a magical touch, cool groove and sophisticated harmonies to an uplifting collection of Christmas favourites from 10-12 December in the Festival Theatre.
Johanna can't wait to celebrate Christmas in her own home town on the Festival Theatre stage. She says, "There is something magical when you combine Christmas carols with lush orchestrations. It's time to celebrate and introduce your family and friends to the joy of an ASO concert this Christmas."
Johanna invites you to share the true meaning of the season: celebrating family, love, peace, goodwill, happiness and, above all, the joy of music. Find out what Christmas means to Johanna.
What do you love about the Christmas Season?
I often find myself at airports around Christmas time. I'm coming home from work or I'm picking up family. And I do love watching people – it's like Love Actually every time. Families re united, families off on adventures. It always makes me shed a little happy tear. People are kinder to each other at Christmas and I love that. I know this year has had its challenges, and we may not be spending as much time at airports going places, but I do think 2020 has reminded us of the value of compassion, Christmas season and beyond. That's something to love and hold onto.
What does Christmas mean to you?
For me Christmas means family and community. No matter what, we always try to come together at Christmas. My Dad has a policy that no one should be alone at Christmas, which means our family Christmases have often been wonderfully eclectic. Old friends, new friends and anyone away from their home. My mum has invited some of her ESL students; My Dad has invited people he swaps bikes with. And really that's the meaning isn't it? Peace and Goodwill to all.
Christmas also pertains to the family you choose. As I've got older, I've loved spending part of the day with friends that feel like family, as well as my own. It's one of life's great joys – community, family, and the chance to spend time together.
Describe your typical family Christmas day?
Well it's the usual hazy mix of presents, people and strong coffee! Sometimes there is a champagne with a neighbour. Sometimes I go to midnight mass – I love the stillness and I adore the music. Usually and hopefully some Christmas gigs, which are my favourite gigs of all (I'm not kidding they are just always fun!)
Always somewhere in the mix a walk along Henley beach. And most of all, joyous chaotic time with those I love.
How will you be celebrating Christmas this year?
Well in the current climate, we are waiting to see what happens with border restrictions so all of our plans are going to be reeeeallllly last minute! I'd be happy with a picnic in the sunshine with my people. Actually that's my hope!
What is your favourite Christmas carol and why do you love it?
Oh this is like picking between children! You're talking to a fully fledged Christmas enthusiast! I can't pick just one. But I can say O Holy Night always makes me cry. I also love Silent Night, Once in Royal David's city, O Come O yea Faithful and Coventry Carol. On the flip side I also love Santa Baby and All I want for Christmas. Gotta get some bluesy goodness in there too. And have always loved Have yourself a Merry Little Christmas and River by Joni Mitchell.
What is your least favourite Christmas carol and why do you loathe it?
I'm not sure why but I've never got into O Little Town of Bethlehem, and never been a fan of 'For we need a Little Christmas' from the musical Mame. And I'm not a fan of any country versions of Christmas carols, or rock interpretations of classical carols. I think I'm a Christmas carols purist! J
Are you on the naughty or nice list?
Hopefully a little of both! 🙂
Favourite Christmas memory as a child?
I have precious memories of my polish grandparents on Christmas Eve Sitting on my 'dziadek's' knee and him tickling me, lots of laughing and so much food! I cherish the time I had with them.
What would you like to receive this year?
This year has had challenges for all of us. In March I was performing a lead role in a musical in Brisbane, a role that was utterly hilarious and filled with joy to portray. And I was about to begin in a dream lead role in a production co-produced by GFO and Opera Australia. And suddenly it was all cancelled and gone. Then began the 'pivot' and from that rise out of the ashes came the most incredible contract with the Australian String Quartet working as presenter/associate producer on their online series. And I finish the year singing with the ASO. I feel very blessed that was the outcome, but it's also a reminder to me to keep working and keep going, in the face of anything else. I think, like most of us, I want the world to open up, for a vaccine to ease the suffering of COVID, and for my world, the performing arts, to be back to normal. But perhaps we could hold onto the compassion we've found through this time?
What do you love about performing with the ASO?
I'm not kidding when I say any gig with the ASO is a dream gig. I grew up in Adelaide being in awe of them. I was 17 in the chorus of State Opera watching them in our first sitz probe and I was utterly overwhelmed watching their skill, musicianship and unity. I am delighted to sing with them. It's always a thrill the first time I hear them play together again.
Anything else you'd love to add?
Adelaide is a very special city to me. It's my home but it's where I began my career also. It is a privilege to sing with the ASO and celebrate Christmas together with our audience. I'm also a fully fledged Christmas carol addict and lover of the season. So this project combines many loves. I can't wait!