ASO in the Kitchen: Concertmaster Natsuko Yoshimoto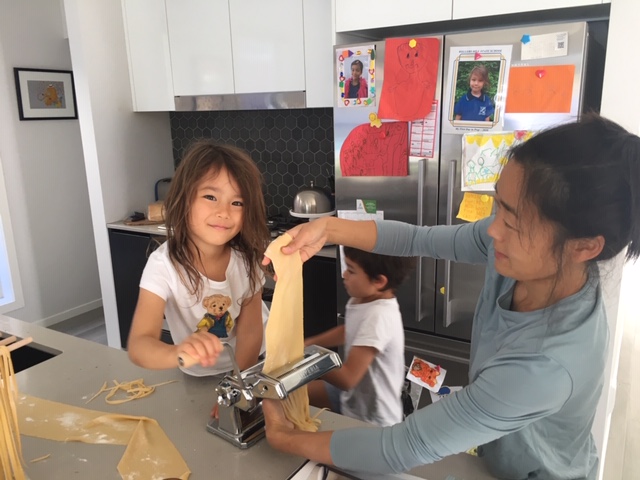 You're a foodie and a fab cook. What/who inspired your love of cooking and sharing your goodies with the orchestra?
We have so many great cooks in the orchestra and we often share lovely homemade cakes and treats in our rehearsal breaks, especially when someone has a birthday! I can't say I'm a fab cook but I love cooking. At the moment I'm a practical cook as I often have to rustle up something quickly for hungry little people before they get cranky!
People often find solace in cooking and eating. Is that the case for you, and did you find yourself baking more whilst we were in COVID-19 isolation?
Normally, when I come back to Brisbane, I have so little time here that I spend very little time in the kitchen and only cook what's necessary, so it's been nice to be able to cook a wider variety of things. Also my daughter Maya has taken interest in cooking, so it's really lovely to have a little helper with me! The kids and I have made fresh pasta together from scratch, which was fun and they enjoy making chocolate cake too, especially licking the bowl!!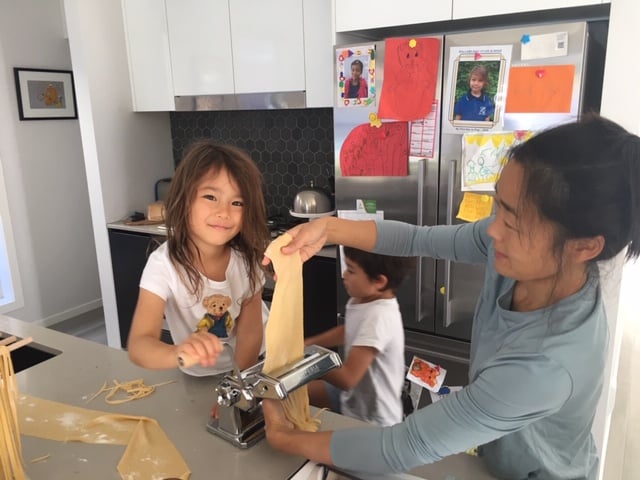 What do you love about cooking?
I love how you can have a recipe to start with, but then you can spice things up by adding your own bit which can sometimes be successful and sometimes not! It's always trial and error but most of the time it's at least edible!!
Is there cooking rivalry in the orchestra?
Not at all! I'm usually the one asking "how did you make that?"
Who would be the head chef and why?
In the orchestra? Not me, but I can bring the wine!
What is your favourite recipe that you love to cook?
Bolognese for my son and roast chicken for my daughter. Those are their favourite foods and they get so happy when I make either of those!
What food do you cook that your family requests the most?
Along with the Bolognese and the roast chicken, baked gnocchi with pumpkin is also a favourite!
Do you have any cooking tips or secrets?
I think the more you do the easier it gets and the more enjoyable it gets!
Describe your last supper. What would be on the menu?
I'd have to have two last suppers! One would be a very traditional Japanese meal. The other has to include a pasta dish as I love pasta so much and for the main, roast chicken with good crispy roast potatoes in duck fat. For dessert a really good lemon tart or tiramisu. With lots of amazing wine to wash it all down of course!
What music do you like to listen to when you are cooking?
I don't often have music while I'm cooking because I'm usually in a hurry but if I do then it's usually jazz. With my daughter it's always the Frozen 2 soundtrack, I know all the songs now!
My favourite cuisine is… Japanese and Italian, because they're both so good!
My favourite South Australian restaurant or café is…Golden Boy for Thai, Parwana for Afghan, and Peel St is yummy too, there are too many to choose from!
Sweet or savoury? Can I have both please?
Get ready to celebrate and bake Natsuko's Chocolate Cake!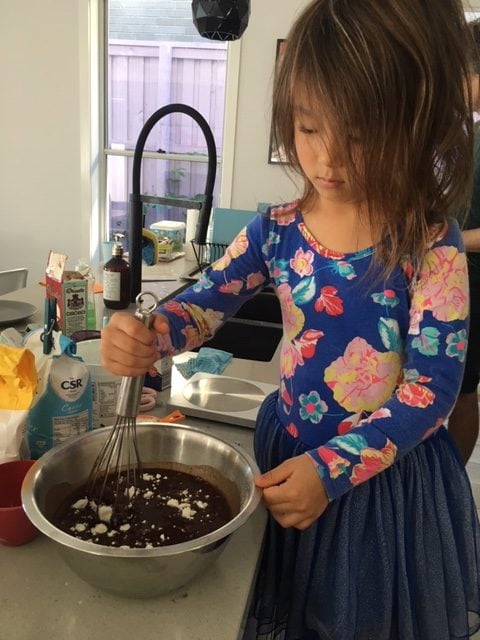 Chocolate Buttermilk Layer Cake, courtesy of Donna Hay 'The New Classics'
Ingredients
1 cup (250ml) water
125g unsalted butter, chopped
1/3 cup (35g) cocoa, sifted
2 cups (300g) plain (all-purpose) flour, sifted
1 teaspoon bicarbonate of (baking) soda, sifted
2 cups (440g) caster sugar
2 eggs
½ cup (125ml) buttermilk
1 teaspoon vanilla extract
Chocolate Cream Cheese Frosting
100g unsalted butter, softened
500g cream cheese
2 cups (320g) icing sugar mixture, sifted
1/2 cup (50g)cocoa, sifted

Method
Preheat oven to 160 °C. Place the water, butter and cocoa in a saucepan over medium heat and stir until the butter has melted. Place the flour, bicarbonate of soda and sugar in a bowl, add the cocoa mixture and whisk to combine. Add the eggs, buttermilk and vanilla and whisk to combine. Divide the mixture between 2 lightly greased 18cm round cake tins lined with non-stick baking paper. Bake for 40minutes or until cooked when tested with a skewer. Allow to cool in the tins for 10minutes. Turn out onto wire racks to cool completely.

While the cake is baking, make the chocolate cream cheese frosting. Place the butter and cheese in the bowl of an electric mixer and beat for 6-8 minutes or until pale and creamy. Add the icing sugar and cocoa and beat for a further 6-8 minutes or until light and fluffy. To assemble, slice the cakes in half horizontally using a bread knife. Place one cake layer on a plate and spread with one-quarter of the frosting. Repeat with remaining layers and frosting finish with a layer of frosting. Serves 6-8.