ASO in the Kitchen with the Denbighs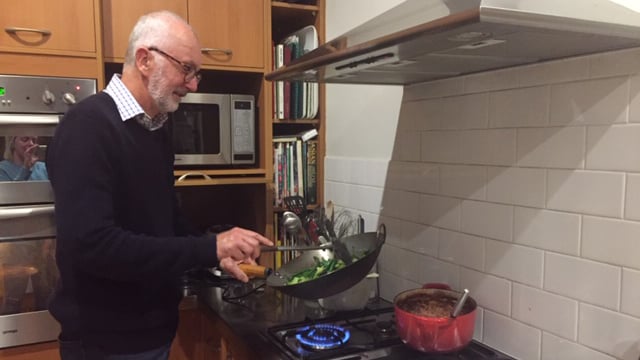 Husband and wife duo Ian and Sarah Denbigh enjoy cooking together, with Ian (Trombone) generally taking care of the mains and Sarah (Cello) on dessert. Now that winter has arrived Ian shares his recipe for Lamb Casserole whilst Sarah's Jamaican Ginger Cake should get us through the cold months ahead.
Who inspired your love of cooking?
Ian:
When I got my first orchestral job in Melbourne I had to move out of home. I had limited culinary skills and I lived with a trumpet player who taught me a lot and inspired me to eat (and drink!) well.
Sarah:
I've always loved baking cakes, slices and biscuits and making desserts which complement Ian well as he's usually in charge of (and much better at) everything else. My mum inspired me by cooking and baking amazing food for our family of five on an old 'Early Kooka' stove!
People often find solace in cooking and eating. Was that the case for you, and did you find yourself baking more whilst we were in COVID-19 isolation?
Sarah:
Our evening eating and drinking habits have probably changed a bit now we're not working at night and yes, I have been baking a bit more. I'm sure this is quite unrelated to the fact that my jeans seem to have shrunk…
What do you love about cooking?
Ian:
Eating well and sharing the food around a big table with family and friends.
Sarah:
I love the idea of the homemade. Pre-packaged and processed food just doesn't come close and you have no idea what's really in it. We enjoy shopping for fresh food and making from scratch. Even though our kitchen is now 20 years old, we appreciate every design decision we made back then and still love it to this day.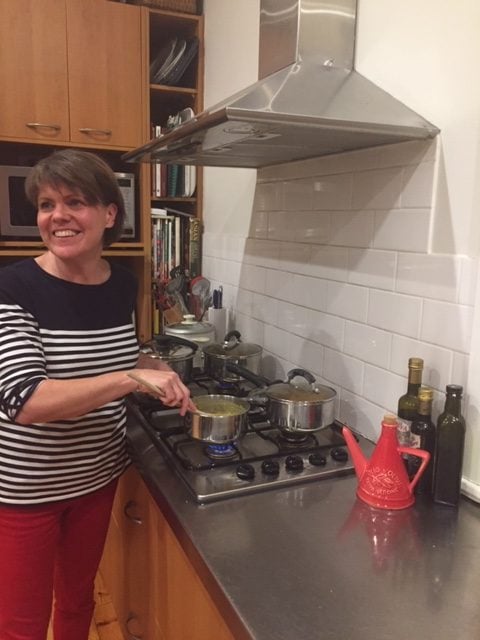 Is there cooking rivalry in the orchestra? Who would be the head chef and why?
Ian:
Not really although Jill Braithwaite does bring in some amazing cakes!
I really like the feeling of community when a colleague brings in a cake for morning tea particularly when we know it could be a challenging rehearsal!
Sarah:
Well I did win FASO (Friends of the ASO) Quiz Night's 'Master Baker' competition a few years ago with my Bill Granger peach and raspberry slice, just sayin'… Seriously though Danielle, Jill and Lachlan are fantastic bakers but Cecily is fabulous at just about everything (and she's usually just pulled the ingredients from her bountiful garden!).
What is your favourite recipe that you love to cook?
Ian:
Probably curries as they fill the kitchen with wonderful aromas!
Sarah:
I'm a big fan of Jamie Oliver and Bill Granger's cookbooks, tasty and simple recipes that work every time.
What food do you cook that your family requests the most?
Ian:
We have a vegetarian at home now so it is probably a char-grilled broccoli salad.
Sarah:
Probably my self-saucing chocolate or sticky date pudding.
Do you have any cooking tips or secrets?
Ian:
I get the most satisfaction from cooking when I use what we have in the pantry/fridge to make something tasty for dinner without being too pedantic about following a recipe.
Describe your last supper. What would be on the menu and who would be at the dinner table?
Ian:
Starters – Warm pita bread with skordalia and baba ganoush with warm olives in herbs.
Main- Chargrilled lamb or eye fillet with garlic potatoes and stir-fried greens.
Dessert- Sarah's chocolate pudding with her homemade orange marmalade ice cream.
Dinner guests – Sarah, our daughters and their partners. Additional dream guests would include Tim Minchin, Annabel Crabb (I loved her 'Kitchen Cabinet'!), Julia Zemiro and Tim Flannery.
Sarah:
Agree with Ian plus I would add lots of fresh salads and Magda Szubanski and Ben Quilty to that dream guest list!
What music do you like to listen to when you are cooking?
Ian:
When I am cutting up a lot of meat I prefer a podcast such as Roy & HG's 'Bludging on the Blindside'! (This is probably because I might get too demonstrative with a knife in my hand if I listened to dramatic music!) ! Otherwise, I am happy to listen to ABC Classic, SBS Chill or ABC Jazz on the radio. If no-one else is home I might listen to opera quite loudly!!
My favourite cuisine is…
Ian:
Italian (closely followed by Greek!) Simple fresh flavours
Sarah:
Me too!
My favourite South AustralIan restaurant or café is…
Ian:
I love going to Café Zuma at the central market. It's a classic Adelaide experience and both our daughters loved going with us when they were younger. A highlight was having a coffee and choc-chip cookie at Zuma's when we were finished shopping.
Sarah:
I really love Meze Mazi on Prospect Rd. Incredibly delicious Greek food, great wine list, stylish fit out and fantastic service. Another Prospect Rd delight is Cotto for great coffee and brunches.
My favourite take-away is…
Ian:
We don't tend to get takeaway very often but when we do it's mostly pizza which I love!
Sarah:
I really want to say Thai food which I love but unfortunately, this is off the list due to my severe peanut allergy.
Sweet or savoury?
Ian:
I like cooking savoury much more than sweets but I enjoy eating both!
Sarah:
I love eating both too but prefer the baking side of things.
Ian's Lamb Casserole (with apologies to Jamie Oliver)
I chose this as I love eating warm comforting food in cold weather. I would often make this on the Friday afternoon of a Masters Series week. I usually shop at the central market after the rehearsal then prepare in the afternoon so that it would be ready to eat before we leave for Friday's concert and then we can have leftovers on Saturday night!
Ingredients
500-700g of diced lamb
2 medium onions
A few sticks of celery
2 carrots
A couple of sprigs of rosemary
500ml red wine
425 tin of diced tomatoes
250g button mushrooms
Tablespoon of plain flour
Olive Oil
Method
Heat oven to 180 C. Roughly chop onions, celery and carrots. Heat a generous amount of olive oil in a cast iron casserole pot on the stove and gently fry along with the sprigs of rosemary. After the vegetables soften a bit, toss the lamb and flour together in a plastic bag then add to the pot (after removing from the plastic bag!!) Season well then add tomatoes and red wine and mushrooms. Stir well and after it comes to the boil remove from stove and place in oven for 2 ½ hours. I generally go and have a snooze on the sofa then check it after about 1 ½ hours and stir before cooking for the remaining hour.
We usually have it with some brown rice done in the rice cooker and some greens like broccoli and/or beans.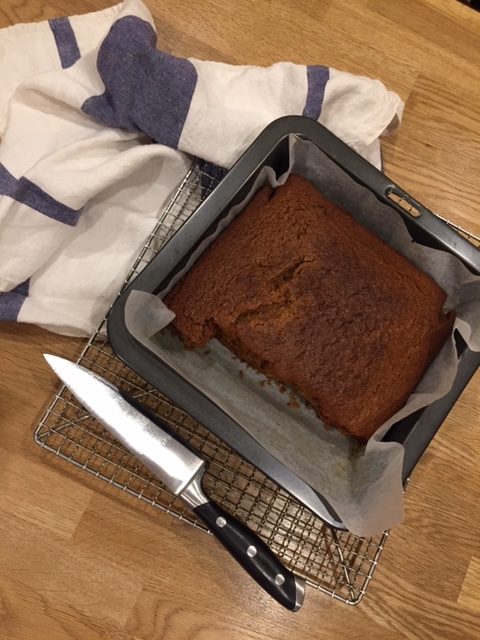 Sarah's 'Jamaican Ginger Cake'
This delicious recipe was given to me by my dear friend and colleague Cecily Satchell. It's always a winner with its zesty and spicy flavours and smells wonderful when it's baking. Sometimes I'll add a simple lemon icing but it often disappears before I get around to it! (I do a variation to step 4 to save on washing up by sifting the dry ingredients directly into the saucepan of melted butter mixture. I also use a 20cm square tin lined with baking paper rather than a springform tin.)
Ingredients
140g unsalted butter
140g brown sugar
140g treacle or golden syrup
Zest of 1 orange, finely grated
Zest of 1 lemon, finely grated
2 eggs
210g plain flour
20g (1T) ground ginger
5g (1t) ground cinnamon
pinch ground black pepper
pinch salt
5g (1t) bicarb soda
170ml milk
Method
Pre-heat oven to 165ºC. Grease an 18cm diameter non-stick cake tin with removable base.
Place the butter, sugar and treacle into a large heavy-bottomed saucepan and heat over a medium heat. Stir the mixture constantly until it has mixed well, the butter has melted and the sugar has dissolved.
Remove from the heat and grate in the citrus zests. Allow the mix to cool for 10 mins.
Sieve the flour with bicarb soda and add the spices and salt into a bowl and mix in the cooled butter and sugar mix. Mix well to remove any lumps and gradually add in the eggs.
Mix well for a minute and add the milk and again mix well to incorporate.
Pour the batter into the prepared tin and bake for 40 mins until the sponge is cooked.
Allow the cake to cool and remove from the ring, serve with a dust of icing sugar and orange zest.