Peter Duggan's Desert Island Discs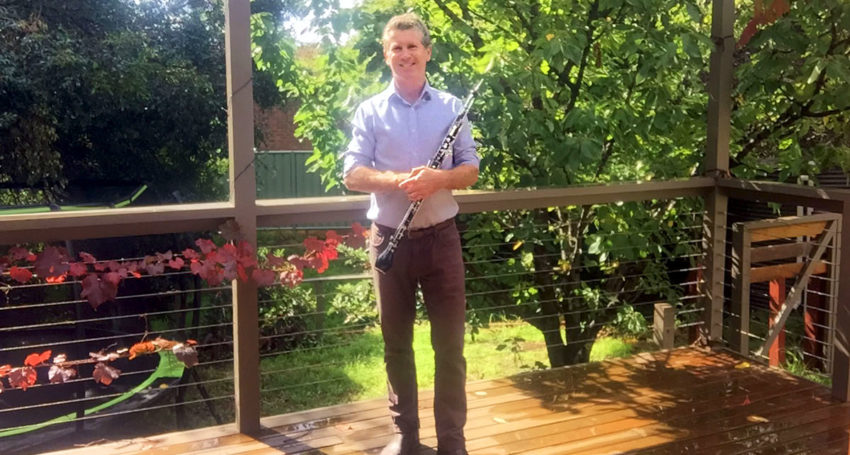 Inspired by BBC Radio 4's Desert Island Discs, cor anglais Peter Duggan explains which eight discs, book and luxury item he couldn't be without if he were stuck on a desert island.
"In the ASO I spend a lot of time on the cor anglais playing slow, often slightly mournful (ok, maybe reflective solos) but deep down I love music with rhythmic drive and energy. So here's a short list from goodness knows how many potential candidates."
Carl Nielsen: Hymnus Amoris op. 12 for Male chorus, Children's choir and orchestra
Essentially a one movement work in 4 sections, Danish composer Carl Nielsen's' Hymnus Amoris is full of energy and optimism. It's a bright and mostly happy piece and, put simply, sparks joy so don't throw it out! I became acquainted with it at Uni and have loved it ever since.
Igor Stravinsky: Petrushka
It's difficult to select just one work from the pen of Igor Stravinsky. He left such a wealth of repertoire, across many genres and styles. Petrushka is the middle work in a trilogy of ballets which effectively catapulted the young Russian to critical acclaim and the world stage. Stravinsky's use of Russian folk songs, incredibly inventive orchestrations and an almost primal idea of rhythm where at times the entire orchestra becomes one giant percussion instrument, make this orchestral showpiece a must have. I've played this a few times, but initially in the Canberra Youth Orchestra, where it opened my eyes and ears to the wonders of the twentieth century orchestra.
JS Bach: B Minor Mass (Qui sedes)
Again, it's impossible to choose only one work, let alone one movement, from the prolific pen (feather?) of Bach. His B Minor mass stands as one of the great religious choral works ever, and even though I'm not religious myself, I can't help but appreciate the enormous power of this work. The Qui Sedes is an aria for alto (often performed by a counter-tenor), with obbligato oboe d'amore and basso continuo (ie. harpsichord and bass instruments). The oboe d'amore hasn't faired well through history and only appears in a few isolated works, and perhaps most notably, as one of the solo instruments in Ravel's Bolero. It's in the key of A, and looks like a small cor anglais, and it's bigger than an oboe. Its use in this aria is particularly exquisite.
Gustav Mahler: Symphony No. 2, first movement
What an epic work. I had the honour of playing this symphony under the baton of the wizard-like maestro Christoph Eschenbach (what an incredible conductor!). We performed it several times as part of the Pacific Music Festival held in Japan in 1991.
Ennio Morricone: Music from Cinema Paradiso
A few years ago we played Morricone's music under the legend's baton himself. What an experience (despite the distant sounds of V8 supercars!). Anyway, Cinema Paradiso is such a beautiful movie with an equally beautiful soundtrack.
ABBA: Voulez Vous
OK, don't judge me. Firstly, my daughters Isabelle (10) and Gracie (9) will be devastated if ABBA doesn't make the list, and this track is full of energy, passion and rhythmic drive – although that pretty much sums up every ABBA song right?
Dire Straits: Sultans of Swing
Released in 1978, the energy of Mark Knopfler and his guitar inspired me to get into guitar and it remains my favourite (oops, second favourite) instrument. What a great dance song. It's just a pity I can't dance, even if I've had a few wines!
Gypsy Kings: A Mi Minera
This is a classic take-off of Sinatra's famous "My Way". It's almost blasphemy to tamper with a classic, however in the Gypsy King's infectious and energetic style, with clapping and Spanish guitars, they pull this off. This particular track is more contemplative but equally infectious.
Book: The Name of the Rose by Umberto Echo
Luxury item: My guitar