Justin Julian's Desert Island Discs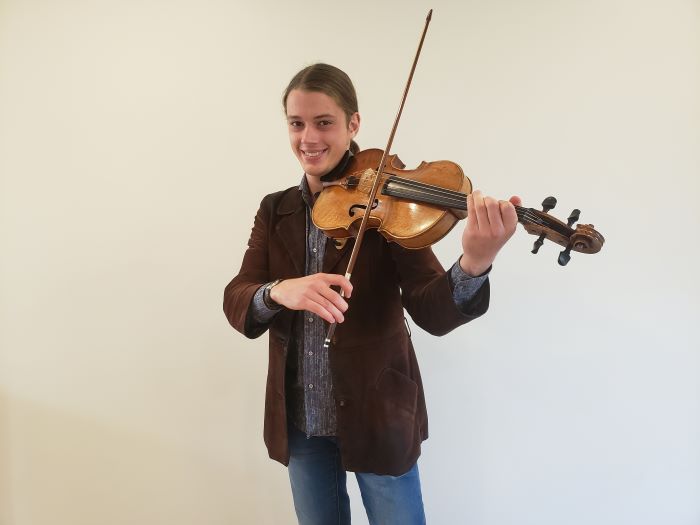 ASO's Associate Principal Viola player Justin Julian (currently on trial) misses the social and creative satisfaction that comes from making music with others, especially with his new colleagues in the orchestra. He desperately longs for the buzz and excitement of performing to an appreciative audience.
Inspired by BBC Radio 4's Desert Island Discs, Justin reveals the eight discs, book and luxury item he couldn't be without if he were stuck on a desert island.
1. Richard Strauss, Metamorphosen (USSR Ministry of Culture Symphony Orchestra and Andrei Chistyakov, 1991)
Strauss's Metamorphosen, written in the final months of the Second World War, is a work of extreme emotional impact for 23 solo strings. This recording, made in the final year of the Soviet Union, has a raw intensity that reflects how the circumstances in which it was made are similar to those of the composition.
2. Gustav Mahler, Symphony No. 9 (Lucerne Festival Orchestra and Claudio Abbado, 2010)
I keep coming back to Claudio Abbado's live recordings with the Lucerne Festival Orchestra when I'm searching for the essence of any Mahler symphony. Mahler's Ninth is one of those truly amazing works of art that words can just never capture – it's like 'creating the universe then watching it decay' as one of my colleagues described it to me when I first performed it as a casual with the Melbourne Symphony Orchestra.
3. Ludwig van Beethoven, III. Adagio molto e mesto from String Quartet in F major Op. 59, No. 1 'Razumovsky' (Alban Berg Quartet, EMI Records, 1987)
Beethoven's first 'Razumovsky' quartet marked a strong turning point in his music away from tradition and expectation. The third, slow movement is at once sublime and tragic, and the Alban Berg Quartet really brings out the expressive and moving aspects of the work. Keep listening to the attacca final movement for a cheerful ending!
4. Franz Schubert, II. Andante con moto from String Quartet No. 14 in D minor, D810 'Death and the Maiden' (Chiaroscuro Quartet, BIS Records, 2018)
Schubert's 'Death and the Maiden' Quartet doesn't need much introduction. I have been a fan of Alina Ibragimova's playing since hearing her direct a stunning performance of it with the Australian Chamber Orchestra in 2018. Here her quartet, the Chiaroscuro Quartet, performs on historical bows and gut strings with an incredible mastery of sound, colour and expression.
5. Alfred Schnittke, Symphony No. 1 (USSR Ministry of Culture Symphony Orchestra and Gennadi Rozhdestvensky, 1987)
Initially met with bureaucratic resistance but huge public interest, this is possibly the most chaotic and brash piece in the symphonic repertoire. It makes for a unique listening experience. It deconstructs and fragments Western musical history, quoting many famous melodies and even featuring an improvised jazz violin solo, producing 'the sound of music, rather than music itself – what is overheard by a society than no longer knows how to listen' (Alex Ross, music critic).
6. Dmitri Shostakovich, III. Adagio from Viola Sonata Op. 147 (Yuri Bashmet and Sviatoslav Richter, 1985)
Shostakovich wrote his Viola Sonata on his deathbed in 1975. The final movement quotes Beethoven's Moonlight Sonata as a farewell nod to the composer who inspired him to write music. Bashmet and Richter perform this at an unusually slow tempo, emphasising the bleakness of the composer facing his end. This is a cornerstone of the viola repertoire, and one of my favourites to perform.
7. Nikolai Roslavets, Viola Sonata No. 1 (Lawrence Power and Simon Crawford-Phillips, harmonia mundi, 2008)
Roslavets is a little-known Soviet composer whose modernist music was suppressed from 1930s. His Viola Sonata is virtuosic and extroverted but also harmonically very forward-thinking. I enjoyed performing this a few years ago, but the insanely difficult piano part was not popular with my collaborative pianist! To be fair, you'd need four hands to easily play every note…
8. Arcade Fire, Afterlife (and the following track, Supersymmetry) from the 2013 album Reflektor
'Afterlife' from Canadian indie-rock band Arcade Fire, poses hard-hitting questions about what love means after our physical forms have passed on. The track that follows finds peace, if not answers, while continuing the melancholy but somehow exuberant mood of the first. These tracks take me back to particularly reflective times in my life, such as long, tired journeys home.
Book: The Left Hand of Darkness by Ursula LeGuin
This is a touching exploration of everything that makes us human wrapped up in a fascinating sci-fi novel that's ambitiously different to your usual space exploration story.
Luxury item: My viola is the most expensive 'luxury' item I own, and easily the one material thing that has been helping me the most to get through isolation. When I'm playing music, I can just be in the moment and free myself of external worries; it's almost meditative (although I can't promise my neighbours feel the same way).