ASO celebrates National Reconciliation Week
28 May 2020
Community
Meet the Artists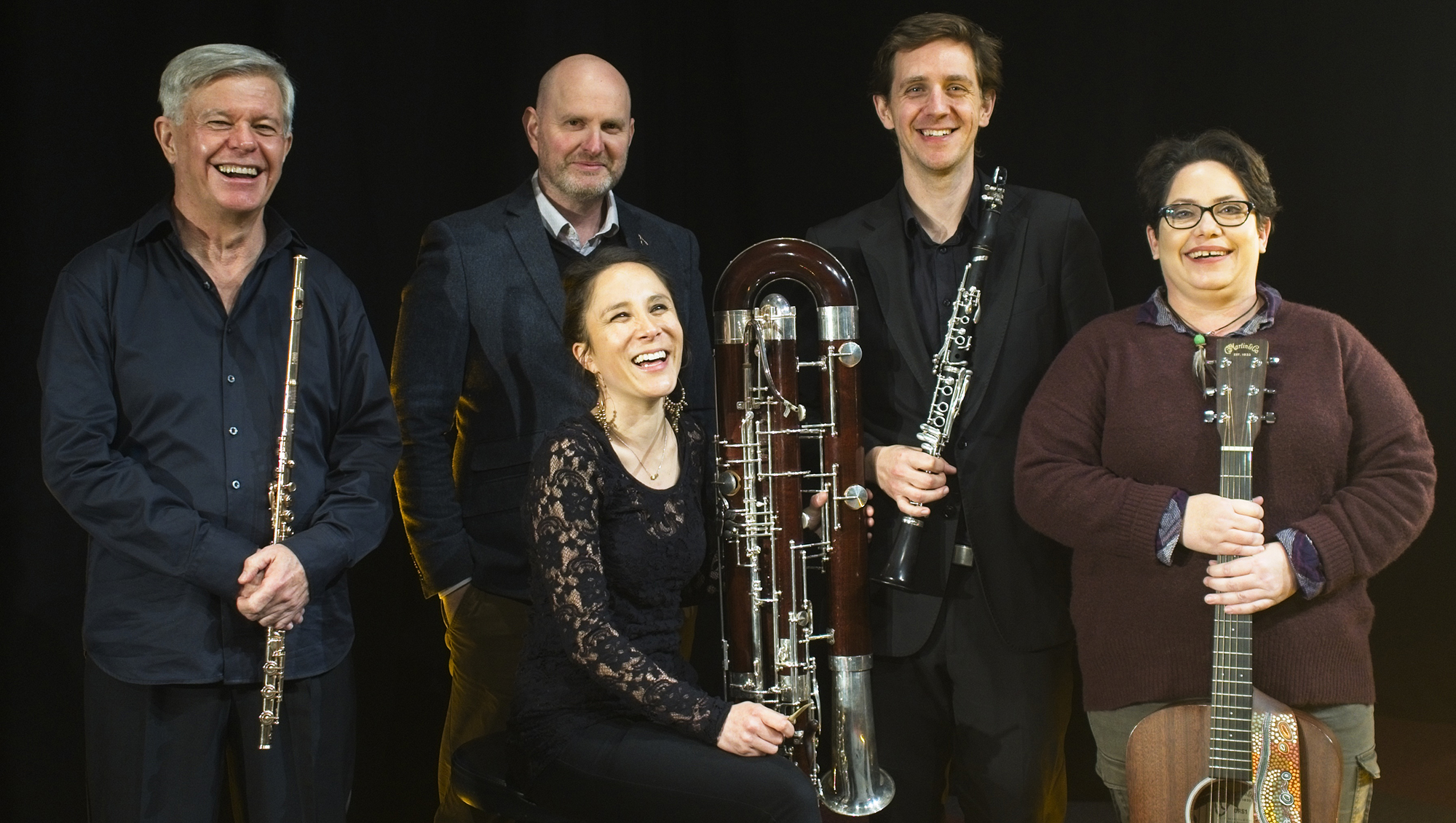 To celebrate National Reconciliation Week the ASO invited Barkindji Songwoman Nancy Bates and composer Julian Ferraretto to collaborate and arrange Nancy's song "Ruby" for ASO musicians, with the work recorded in the ASO Virtual Concert Hall. "Ruby", about the late Ruby Hunter, was written by Nancy as a special gift for Archie Roach and recorded with his blessing.
A proud and strong Barkindji Woman from New South Wales, Nancy Bates brings to Australia and the rest of the world a colourful blend of lyrics and music that we all yearn to infuse within our souls.
Nancy and her collaborator Julian tell us about the process of recording "Ruby" for the ASO Virtual Concert Hall.
Songlines have been a prominent feature of Aboriginal cultures for over 60,000 years, they explain the laws by which Indigenous people have lived, and the origins of this country. Can you please explain what Songlines are and the significance they have to you personally?
Nancy: Songlines are navigational tracks travelled by the creation spirits who created the land, lore and animals. Songlines are embedded into the landscape 'because you sing it up' as you move from place to place sharing the songs between language groups. Personally, I am so sad that I was denied my right to learn my songlines because of the destructiveness of colonisation. Going to the Garma Festival in NT where songlines are unbroken, I feel a deep sense of loss.
As a musician and storyteller, how are contemporary new songlines established?
Nancy: The first thing is to acknowledge the songlines, acknowledge before you play. Being authentic and writing songs that contain important messages, that are wise and that incorporate community. I do a lot of songwriting with community groups, like Adelaide women's prison, and I think that is part of how you establish a new songline.
You are recording your song 'Ruby' about renowned Indigenous artists Archie Roach and Ruby Hunter, tell us about the song and the meaning behind it?
Nancy: I wrote this song for Archie Roach who I toured with for almost 4 years and it's about his beautiful wife Ruby Hunter who was an incredible singer-songwriter in her own right. I think often women are catalysts for the birth of beautiful music because our love inspires. It's also about the invisibility of women in the music industry and Ruby stood for women's music, and black women in this country. To sum it up, it's about the contribution of Ruby Hunter to the Australian musical landscape, and to Archie Roach.
Nancy, you spent years touring regularly as a backing vocalist and rhythm guitarist with Archie Roach and have said that performing on stage with Archie Roach is the "closest thing to the spirit", tell us about what you mean?
Nancy: The music of Archie Roach is 'skin music', it weeps from his skin…..If you have not immersed yourself in the catalogue of Archie Roach then you are not fully realised as a song maker. When I said it was the closest thing to spirit, I mean that the depth of Archie's music, the enormity of his voice and storytelling, and the feeling in the room would be transcendental. People would cry, release their pain and there were times that Archie's presence was so enormous that you would be overcome. The love he receives without command is pure and divine.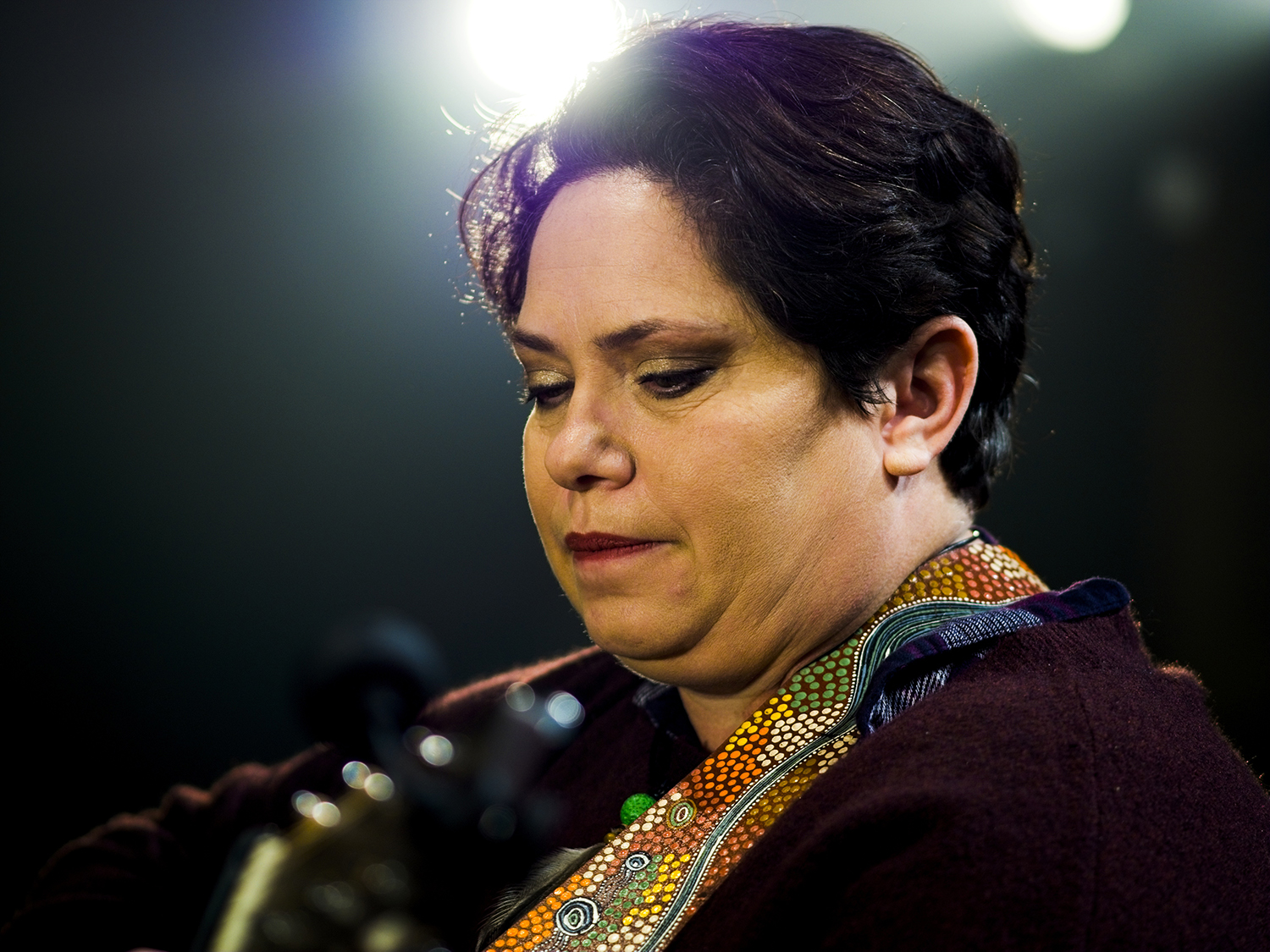 When asked if you could collaborate with the Adelaide Symphony Orchestra and Julian how did you feel?
Nancy: Just so excited and appreciative, I mean who gets to do this kind of project? I think the ASO is genuine in wanting to collaborate with Aboriginal and Torres Strait Islander people in SA because they see a real benefit for their musicians in having a relationship with First Nation people and through their music.
Likewise for you Julian how did you feel when you asked to collaborate with Nancy and rework her song for the ASO musicians?
Julian: I felt it was a huge privilege and also a big responsibility to arrange her songs. Her music carries on a 60000-year tradition and her music carries on that story. I was also really excited to work with the ASO. I've worked with them a few times now and I know and trust the musicians to beautifully shape any melodies that you give them.
How did you work together, describe the process? Is this different from your normal way of learning?
Nancy: From my perspective it was organic. We have worked together before so it was wonderful to have the opportunity again. It was different, I have never worked with these instruments but I got to learn about them and realised how compatible they were for Ruby. It's intimidating working with trained musicians when you are not yourself, but we found common ground and that was the song Ruby itself.
Julian: We worked together first by listening to lots of different music – playing music to each other for a couple of hours. Nancy played me classical music that inspired her, including Prokofiev's Peter and the Wolf, as well as lots of music from Archie Roach and Ruby Hunter, and told me stories around them. Process wise, it was different to how I usually work, because I normally go to the melody and the harmonic structure of the piece. Nancy highlighted the importance of the lyric and the narrative of the piece. We talked about those particular lines in the songs which need to be brought forward.
Whilst researching and early in the collaboration you spent a lot of the session listening to pieces, ranging from Archie Roach to Mozart and Elvis Costello, how did those artists and music inform the piece?
Julian: We looked at pop musicians who used reeds and winds in their arrangements and the space that they filled. Archie Roach was important because of the connection to the song and because he is underrated while being one of the most important voices in Australian music. It was hard to ignore Mozart – Mozart is such a master of balance and colour and his wind serenades teach you something every time you hear them.
The work is recorded with a wind trio, ASO's flautist Geoff Collins, Clarinettist Dean Newcomb and Contra Bassoonist Jackie Newcomb, describe the sound that the trio added to the original work?
Nancy: I cannot speak highly enough of the trio, I mean outstanding musicians and beautiful people who made me feel like a Rockstar. The sound of the instruments was the perfect marriage for the song. In fact I will now go and formally record the song with them. I think we could do more gigs together once venues are open again and that's an exciting prospect. We learned a lot from each other.
Julian: The trio's sound kind of holds the work up and surrounds it, almost creating some scenery around the story. Their function changes through the piece – in the opening, they set the scene. There were moments when they surround the lyric and lift certain phrases and other times they function like backing singers in a band.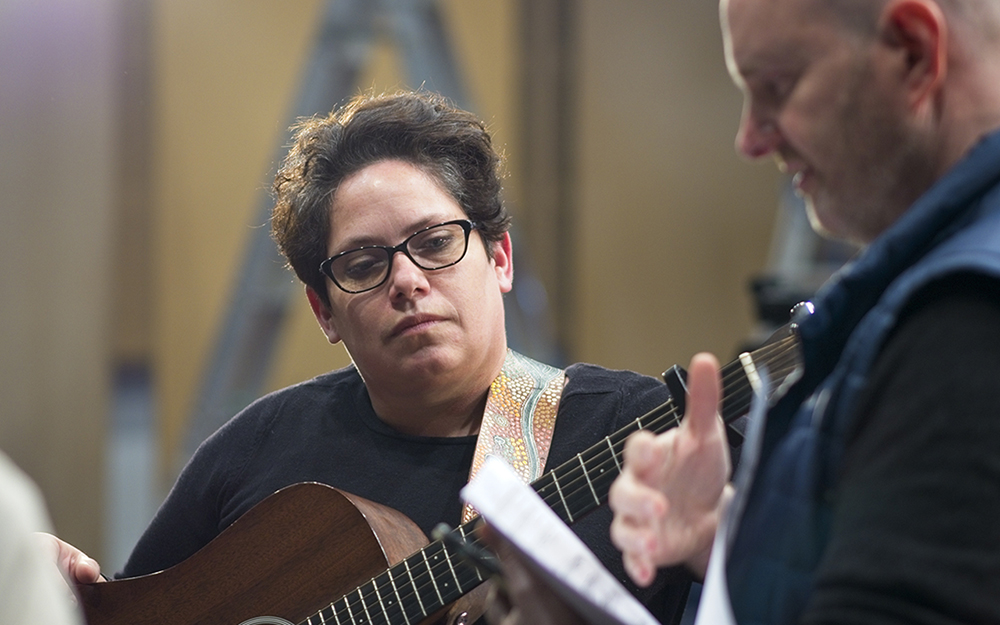 How do you feel about the completed project and how important do you believe the project has been?
Nancy: This project has been one of the most beautiful and special opportunities ever given me. The ASO treated me and my song like a precious newborn baby. The filming crew were amazing. There was a genuine exchange of stories and perspectives and a warmth between us all. We workshopped the ASO's 'Acknowledgement of Country' which was an unexpected but significant outcome.
Julian: I think this project feels like a beginning – bringing together the combined gravity of symphony orchestra musicians and a 60000 plus-year-old songwriting tradition. It's exciting and visceral. There was a sense in the room that something new and exciting was happening and our heads are now buzzing about where we go from here.