ASO in the Kitchen: Violinist Gillian Braithwaite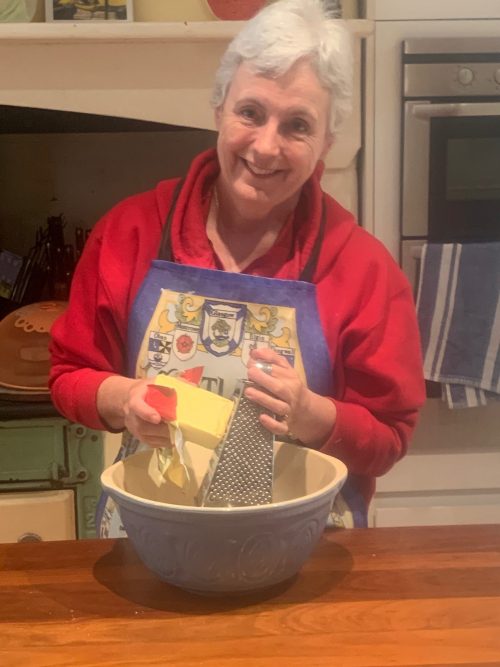 ASO violinist Gillian Braithwaite, fondly known as Jill, grew up in Scotland. Jill has been with the ASO for 20 years and loves living in the Adelaide Hills, a foodie haven known for its bountiful produce.
With her conductor husband, Jill is often hosting dinner parties, and cooking – especially baking – has turned into a labour of love. She's even auditioned for the Great Australian Bake Off! Enjoy getting to know how Jill's skill in the kitchen transcended her Scottish heritage, and try her ideal isolation recipe for Rough Puff Pastry.
You're obviously a foodie and a fab cook, what/who inspired your love of food?
I wouldn't describe myself as a foodie or a fab cook, but thank you!
I grew up in the lowlands of Scotland, and our meals were deliciously simple, but certainly not gourmet. I can remember my first curry in my late teens, and avocados came even later. The cuisine of the UK and particularly Scotland does not have a great reputation – we deep-fry everything! I do recommend giving deep-fried pizza a try if you're ever there. My local chippy had a choice of pizza: either cheese, or cheese and onion – go for the second as a "deep-fried pizza supper" (supper means 'with chips'). However, you do need a bottle of Coonawarra red to wash it down…
Anyway, I've come a fair way, but had a very low starting point! Being the wife of a conductor has also meant that we have had very many dinner parties with visiting international artists (more than one conductor in a room can be challenging, but not as noisy as a BBQ with an opera cast!), so I've had to teach myself to cook, and without the Australian Women's Weekly Cookbooks, I would have been totally lost.
I particularly like baking – I think my heritage has meant I really love carbs (no Keto dieting for me) – so cakes, bread, puddings are my favourite, and now we're empty nesters I need my colleagues to eat it all up.
I heard a rumour that you applied for the Great Australian Bake Off, is that true?
I have auditioned 4 times for the Great Australian Bake Off now, and each time they have been very encouraging, but haven't quite made it yet. I think it would be an amazing and unique experience, especially with SA's outstanding and gorgeous Maggie Beer as a judge.
People often find solace in cooking and eating. Is that the case for you, and do you find yourself baking more whilst we are in COVID-19 isolation?
One of my weaker areas in the audition for Great Australian Bake Off was my inexperience of bread making, so I've been working on perfecting some sourdough bread – my last attempt was getting close. However, I find I gravitate to sewing or walking with my Border Collie when I need some time out, probably because baking can be more disaster prone!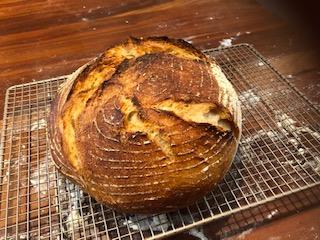 What do you love about cooking?
Cooking brings together family and friends, so that's what I love about it. I don't believe that people are that fussy about what they eat as long as the company is good and there's plenty to go around. We are particularly blessed in the Adelaide Hills with the quality of local produce. Our local Hahndorf butcher has the best meat you can get, and our fruit and veg shop is only a couple of hundred meters away and has nearly everything you need.
What is your favourite recipe to cook?
I really love trying new recipes and am often inspired by what they're making on the latest episode of Bake Off (be it British, Australian or NZ), so I don't have a favourite recipe – just the next one.
My favourite cuisine is…
I love Italian food – and going to Italy to eat it (as well as the fantastic La Trattoria, which is a treatafter ASO concerts). Probably because pizza and pasta are carb rich!
Describe your last supper. What would be on the menu and who would be at the dinner table?
We have a very traditional Christmas meal every year that we have shared with another family with similar aged children for over 20 years. It is so much fun and the table groans with turkey and trimmings, followed by pudding and brandy butter. I don't think I could think of a better last supper.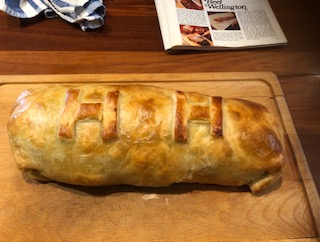 Gillian's Rough Puff Pastry
The recipe I've chosen to share is for Rough Puff Pastry. I know that making your own pastry is a bit scary for many people, but rough puff is not difficult, it just takes little bits of time over a few hours (suits self-isolation perfectly) and it is really worth it! You can freeze it once it's made, and use it for all sorts of recipes, from sausage rolls and beef wellington to tarts and apple pie. Don't be afraid – give it a go and you won't regret it.
Put your butter in the freezer and your flour, lemon juice and bowl in the fridge for at least a few hours before you begin – it's important to keep everything as cool as possible through the process. It's best made the day before you use it, so a wee bit of planning ahead is required.
Ingredients
60 g unsalted frozen butter, grated
200 g unsalted frozen butter, grated (weigh the butter after grating it)
350 g plain flour
120 – 150 mL ice cold water
1 tsp salt
1/2 tsp lemon / lime juice (or white vinegar)
Method
In a bowl, combine the flour, salt and the 60g of butter. With your fingers quickly rub the butter into the flour.
Add the lemon and water, a tablespoon at a time, while mixing with a wooden spoon or your fingertips to bring the dough together.
Add enough water to form a firm dough (that is not tacky or too wet).
Knead the dough on a floured surface for about a minute, not too long, wrap in cling film or a plastic bag and leave it to rest in the fridge for about 10 minutes.
Roll the dough out into a long rectangle (about 15cm wide, and 40cm long). If the dough is hard to roll and bounces back all the time, put it back in the fridge for a while to rest some more.
Sprinkle 100g of grated butter on 2/3rds of the area of this rectangle.
Fold over the portion without butter, towards the middle.
Then fold over the other end, over the first fold.
Turn the dough 90 degrees and roll it out to form another long rectangle, about the same size as before.
Repeat with the rest of the butter.
Wrap again and put in the fridge for half an hour.
Remove from the fridge, turn 90 degrees and roll out to the same size as before, then fold in thirds as before, but without the addition of butter this time.
Repeat this process 2 more times and then you can store it in the fridge until needed. It will need to rest for at least 2 hours before using, even overnight for best results.